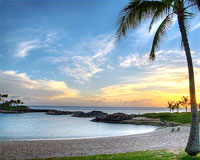 Best time to Visit:
October to May
Summer Temperature:
Minimum - 18
o
C, Maximum - 39
o
C
Winter Temperature:
Minimum - 11
o
C, Maximum - 20
o
C
Average Rainfall:
1687mm (May to early October)
Best Time to Visit:
October to May
With its exotic locales and mesmerizing landscape, what makes Daman a much preferred holiday getaway is it's mild and moderate climate. Situated in the western part of India, on the southern border of Gujarat, this idyllic port lies at an altitude of 12 m from the sea-level, with the crystalline Arabian Sea surrounding it. A much-favored holiday destination among tourists, Daman has a climate that is ideal for mirth and merrymaking throughout the year. This article provides detailed information on the various seasonal changes, and how it affects the climatic conditions of the place.
Summers
Unlike Diu, summers in Daman are not sultry, but dry and humid. Days are warm, with the temperature soaring to a maximum of 39
o
C. But the nights remain comparatively cooler, with the temperature dropping down to a minimum of 18
o
C. Due to its close proximity to the Arabian Sea, the place experiences constant sea breezes that ameliorate the heat of the summer sun, and makes the temperature mild. Moreover, the climate remains ideal for swimming along the crest and fall of the waves. The palm tree fringed beaches sooth the sight and are very welcoming during this season
Winters
During the winters, the climate remains pleasant, with the temperature reaching a maximum of 20
o
C. The sun envelops the whole island with inviting warmth, which is very solacing. Though the temperature may drop down to a minimum of 11
o
C during the night, days are comparatively warmer and remain favorable. The climate is perfect for languidly relaxing under the sun, allowing it to tickle your skin as you read your favorite book, or just lazing around and dozing off beneath the azure sky. This season also sees the influx of various migratory birds to the place, much to the delight of birdwatchers and ornithologists.
Monsoons
Monsoons (May to October) are the perfect time to witness the beauty of the place. The whole place is steeped with festivities with the onset of the fishing season, as the locals celebrate the 'Nariyal Poornima'. They offer coconuts to God and seek His blessings, praying for safety and prosperity of the local fisher folks. The annual rainfall is about 1687 mm and vegetation blooms with all its verdure, giving the landscape a resplendent look and feel during this season. Though the best time to visit Daman is anytime between October and May; the monsoons in Daman are also great for exploring the riches of the place.